Ro-Ro & Lo-Lo Services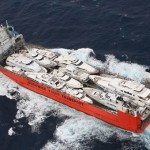 RO-RO (Roll On, Roll Off)
Boats are delivered as is from port – port. Boats must be on a trailer or a cradle must be manufactured. The ocean freight for Roll-on Roll-off is based on cubic ft or meters rather than the economic freight of a container, what may fit inside is OK to ship without additional costs. In the shipping world we refer to this as "Roll on – Roll off". This is the form of shipping method we would use if your boat is on a trailer or if it is too large for containerized shipping. This is a very economic way to transport your boat whether shipping overseas or within the United States. Origin and destination port fees are greatly reduced due to the boats ability to be moved without the effort of a fork lift or crane.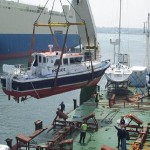 LO-LO (Lift On, Lift Off)
Mainly for cargo too large to be shipped using container service or roll-on roll-off that must be loaded and unloaded directly to the deck of the vessel using cranes and derricks from the port. We refer to this as "Lift on – Lift off". This method of shipping is used if your boat does not have a trailer or is too large for a trailer. In this case we would have a cradle constructed for your boat for shipping. Although shipping rates and port fees are higher it still can be very economical to ship this way. The reason for the higher rates are due to the use of extra equipment such as fork lifts, cranes, man power, and of course cradle costs.
Other Services Include:
Warehousing
How some companies may only offer 5 days of warehousing. We understand that you may want to look for additional items to ship in your container. Please discuss terms with your agent.
Ocean Freight Cargo Insurance
Receive full coverage insurance for your entire move through All Boat Shipping Inc. for up to 25% less than the leading company. Insuring your property from unexpected occurrences is recommended for high valued cargo.
Completing Your Cargo Purchase
As many of our customers are overseas we understand that not always may you feel comfortable handing over a large sum of money to a private seller or in some cases you may even want an inspection report. We will be happy to assist to finish the transaction in your behalf and travel to inspect not only the cargo of your choice but the sellers credibility. Please request details from your agent.
Cradles & Trailers
On all ocean transport boats must either have a cradle or a trailer for export. We manufacture all of our cradles specifically for your boats specifications. Using our network of credible trailer manufactures, we may assist you in the purchase of a new trailer for your boat. Certain fees may apply, contact your agent for more details.
Arch Removal
We want to save you every penny. Roll on Roll off service ocean freight is determined by the Length, Width Height and Weight of your cargo, every inch counts. Removing the radar arch can save you hundreds of dollars on your ocean freight.
Winterization
Winterization is very important to have done during the winter months. Failure to do this can result in ruined engines and massive plumbing and interior damage. We would be happy to assist you if needed.
Shrink Wrap
This is optional but highly recommended. Not only does it protect your boat and keeps it clean, it also provides a modest level of security. Shrink wrap is a very good theft deterrent, but we recommend that you consider shipping all of the electronics separately. The insurance coverage does not apply to the boat contents.